About Precision Link Conveyors
Precision Link Indexing Conveyors are a type of Linear Transfer System that is used in a wide variety of industries including food processing, packaging, medical and pharmaceuticals manufacturing, aerospace, energy products, defense, consumer goods, electronics and automotive manufacturing.
Precision link indexing conveyors are used in high volume, high speed manufacturing environments with high part counts sometimes reaching into the millions. As a result they are designed to achieve excellent product quality and production efficiency over very high manufacturing cycles and life spans with low maintenance.
Unlike traditional conveyors used for feeding parts, or general locating, precision link conveyors are designed for manufacturing to be done directly on parts, assemblies or products. For linear transfer operations that require intermittent movement of products or components with a cadence that includes quick yet precise part, product or container location interspersed with longer and accurate dwell times, precision link conveyors are often the best linear transfer option.
Precision index conveyors consist of precision-machined aluminum links which are driven by a high-performance unit consisting of an index drive, gear reducer and a brake motor. Hardened dual drive sprockets guarantee a backlash-free motion transmission between the drive unit and conveyor chain links, which translates to accuracies of up to +/- .006" linearly.
We measure every link for accuracy by testing each LFA and LFAS model precision link indexing conveyor that is ship
Precision Link Conveyor Components
Precision link conveyors use a run of high precision drive chain that is looped to create one continuous run. Each link of the chain is purpose designed to create a high repeatability long life assembly. Because weight of the chain links impacts the life of wearing components such as bearings and pins and the torque needed to accelerate and decelerate the moving assembly, the links are often made of aluminum.
The links are mounted on cam followers that ride within precisely milled and hardened steel rails. The cam followers are pressed into needle bearings at each link joint to eliminate wear and extend life. Cam followers may be lubricated and sealed for life, particularly in manufacturing areas requiring high cleanliness such as food manufacturing or that are dirty, dusty or prone to liquids.
Links are made with tapped holes to interface with parts or products directly or to mount component or assembly holders.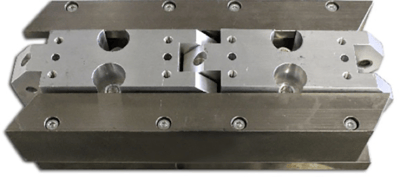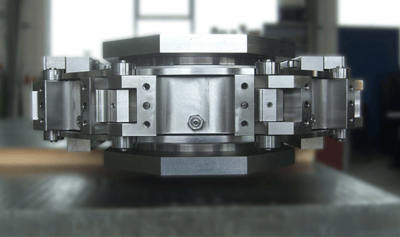 Precision Link Conveyor for Linear Transfer Configurations
Precision conveyors are most often straight rails with 180 degree turns at each end, offering any length of linear working area along each side.
Precision Link Conveyors are available in over/under and carousel configurations or can be customized shapes to meet specific applications.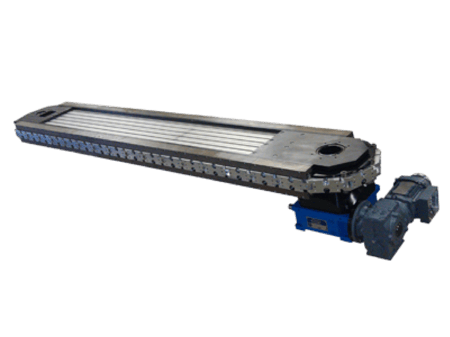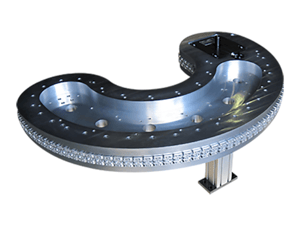 Precision-Link Conveyor Drives and Customization
Precision link conveyors are often customized to meet the needs of the linear transfer system
application. Most applications require long dwell times and quick indexing. The drive can be a servomotor coupled with a high accuracy servo reducer or it can be a rotary indexer. Closed loop motor control systems maintain excellent speed and accuracy. Rotary indexers can provide a wide range of link stroke lengths from a few millimeters to over a meter.
At the non-drive end of the conveyor, hardened cams guide the chain and the guides are preloaded to take up slack and prevent backlash in the system.
Precision link conveyors are usually designed for linear transfer, but can be manufactured to custom shapes. Customization can also include drive unit customization, pitches and strokes, hole tap sizes and configurations, mounting plates and chassis mounting options for accessories such as instrumentation or fixtures. Linear transfer systems can be customized to protect wearing parts from liquid or solid ingress or to cover pinch points for worker safety.
OPTIONS AVAILABLE
Explosion-proof motors, servo drives and motors for flexibility
Custom index and dwell angles
Overload protection devices
Custom link sizes and linear strokes
Custom hole patterns on links
Stainless steel, nickel plating or other special surfaces on select areas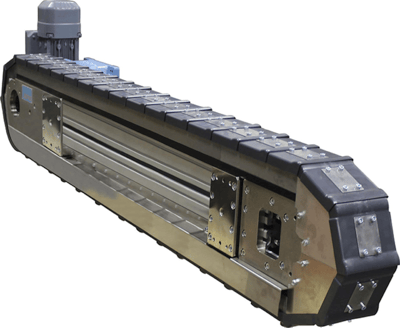 How to Bring Power and Communications with Electrical / Pneumatic Slip Rings
With this new revolutionary slip ring you can now operate clamps, pneumatic work holding fixtures, and other apparatuses right on the link of the conveyor system. Capable of transmitting low voltage dc power, small air lines, and various types of communication – Ethernet, Profinet and Device Net. Learn more about the advantages of the LCM System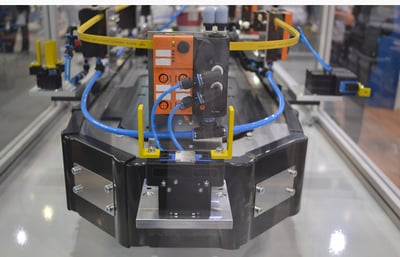 Motion Index Drives Products for Linear Transfer Automation in Multiple Industries
Medical manufacturing requires precision link conveyors to have high speed and accuracy as well as being clean and maintenance free.
Our Tool Tray Transfer System can handle high loads at a low profile to accurately carry tooling to allow robots to perform work on them, providing the perfect linear transfer system for automotive demands.
Benefits of Linear Transfer Machines
Motion Index Drives Linear Transfer Systems can be customized to your applications, utilizing the highest precision guard rails, rack and pinion system and closed loop motor control system so you can manufacture the best product possible. Manufacturers turn to linear transfer systems for their low profile while minimizing floor footprint, all while maintaining excellent speed and accuracy.
To learn about Linear Transfer System and Robot Transfer Unit systems, applications and design factors visit our guide here.

Tool Tray Shuttle:

The compact, low profile Tool Tray Transfer System is used to precisely shift tooling or parts linearly at a customer specified distances with a standard accuracy – DIN 6 on gear rack +/-0.0003"/ft . It has an infinitely programmable position through the use of an AC motor with encoder or servo motor control. It eliminates the use of typical shot pins required due to the gearing position and low backlash gear reducer. Learn more Key Benefits of our Tool Tray Shuttle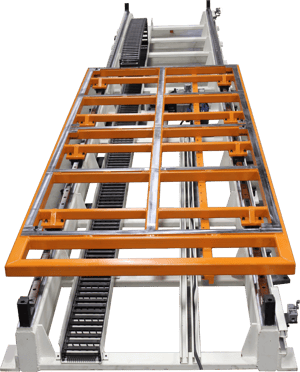 Robot Transfer Unit:

Motion Index Drives manufactures the 7th Axis Slide – Robot Transfer Unit to accommodate any robot servo motor brand that our customer is utilizing for their automation project. Our robot transfer units can be used for material handling jobs or any type of welding or dispensing application. View all of the Benefits and Options Available for our Robot Transfer Unit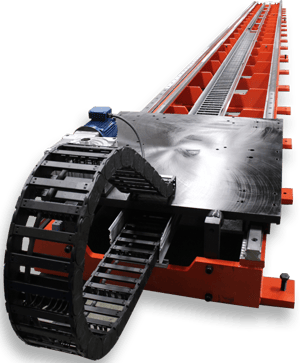 Lift and Shift: Robot Transfer Unit:

The lift and shift transfer unit combines the standard tool tray transfer linear motion with a
mechanical lift.