The Future is EV
With the United States Government providing 3.1 billion in funding for electronic vehicle battery manufacturing and components to boost supply chain as a part of their Bipartisan Infrastructure Law, there has never been more incentive for vehicle manufacturers to fully commit to electric vehicle production that could see more than half of vehicles on the road to be electric by 2030.
Automakers such as Ford and Stellantis are completely redirecting their platforms in how they engineer new vehicles to be completely electric in the future.
Ford is committing 22 billion to further expand its EV lineup through 2025 with the Mustang Mach, E-Transit van and F-150 in four plants across North America. They are constructing a manufacturing site called the Blue Oval City in Tennesse and twin battery plants in central Kentucky, creating 11,000 news jobs.
Stellantis's second EV battery plant in North America is slated to begin production in 2025 in Indiana, with a $2.5 billion investment. According to the manufacturer, they have already committed to $35 billion in electronic vehicle related funding across their brands with plans to reveal an electric Dodge muscle car and Ram 1500 pickup in 2024.
Motion Index Drives is here to help manufacturers adapt in this progressive shift into Electric Vehicle Production with a variety of precise and flexible solutions to improve the efficiency of Electronic Vehicle battery manufacturing.
What Motion Index Drives has to Offer
The fastest link chain conveyor on the market
High speed cam rotary indexing
A world-wide service and support network
Individual support on-site and remotely
Optional maintenance check by our experts every two years
RTX350: Our Smallest and Newest Rotary Indexing Table
The new RTX350 high speed cam indexing rotary table is our newest and smallest indexer of our extensive line of cam indexers. Several hundred of these new RTX350/10 ten station and six station rotary indexers will be utilized in a battery manufacturing facility in Germany.
The index time for these units is 0.25 seconds for 36 degrees. The video is simulating the inertia load of the actually application that will be used for production of batteries.
The indexing rotary table RTX is often used in the assembly technology, the testing technology, the welding technology, the printing, the pressing, the automotive industry, the microelectronics, the food industry, the medical and the cosmetic industry.
features
Reliable, robust drum cam roundtable for all applications
Construction diameter 100mm – 500mm
Fixed divisions 2 – 96 or flexible through NC technology
Gentle starting and stopping across the switching cam
Large, vertically hollow shaft
BENEFITS
Ideal for high loads
Standard accuracy 15″ – 35″
Four-point mounting at the outer diameter output flange
Maintenance free through oil bath lubrication
Stop operation, continuous operation or reversing design possible
All installation positions possible
LFA-HSP Precision Link Conveyor
When Precision meets High Speed Performance
LFA HSP is the answer to today's questions in modern manufacturing. Our new linear transfer system keeps up with the ever increasing demands for shorter indexing times and higher precision.
Its geometry is designed for high speed, energy efficiency and higher loads. It
applies to continuous and intermittent processes.
Motion Index Drives LFA HSP allows to ramp up production and lift the output to the next level. Typical feed times with a total load of 200kg are as follows: With torque motor, even shorter times are possible.

Advantages
features
Short indexing times: the geometry of the U-turn is designed to compensat radial forces.
Precision of +/- 0.05 mm: the system inherits position accuracy two servo motors.
Energy efficient: custom acceleration ramps reduce the power consumption of the system.
Constant velocity: new possibilities for operations in motion.
Quick setup: no progamming of individual carriers.
Low-maintenance and robust: no fine tuning in operation necessary.
Applications in Battery Manufacturing
features
Cell assembly
Cell Cleaning
Protective Painting
Cell Taping
Cell stacking
Modul pack assembly
Visual testing (optical, x-ray)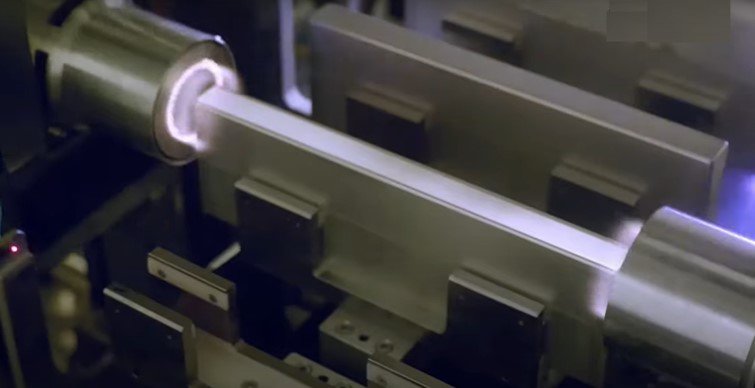 White Paper